P2ware Project Manager 7 is a project management software for professional managers demanding tool that embraces all aspects of real world project management from planning to execution. The software is PRINCE2® and PMI PMBOK® compatible and can easily be tailored to in-house methodologies, both more and less formal. P2ware Project Manager 7 provides clear and comprehensive diagrams, Gantt Chart, product-based planning technique, empowers resource management, cost control, reporting and includes all frequently used registers and logs.
P2ware Project Manager 7 integrates with P2ware Project Team Server 7 or P2ware Portfolio Server 7 making it possible to scale project management environment whenever needed and introduce new functionalities such as shared resources management, documents repository, workflows, and secure online access.
Includes English, French, Spanish and Polish versions.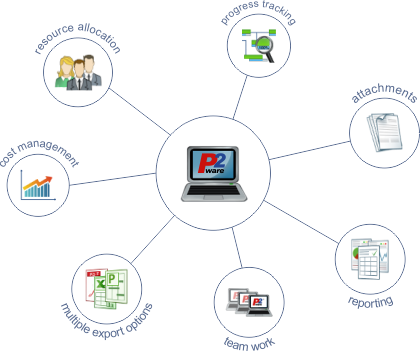 Main features
Complete support for project planning and execution
Comprehensive diagrams including Gantt Chart, Network Diagram
Ultimate product-based planning support: Product Breakdown Structure, Product Flow Diagram and automatic generation of Gantt Chart/Network Diagram
All required registers: Risk Register, Issue Register, Quality Register
Important logs: Daily Log, Lessons Log
Resource management
Cost planning and control
Over 40 real world report templates
Unique customisation functionalities
Integration with server applications and other tools
Free Project Manager 7 Viewer for teams, stakeholders and other users
Key benefits
All key project aspects under control
Faster, easier and more accurate project planning and execution
Unique scope and quality planning support every so often neglected in other tools on the market
More time for your team, better communication and understanding of project goals
Better and more successful project management
Private and public cloud ready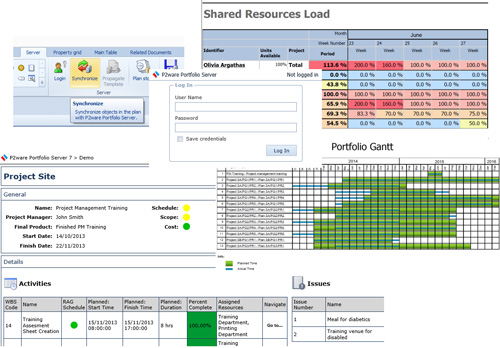 P2ware Project Manager 7 integrates with
Editions comparison
Project Manager 7
Essential project management software for managing projects and delivery teams offering product-based planning, diagrams, Gantt Chart, resource management, cost control, all frequently used registers, logs and report templates.
Designed for
projects managers
project coordinators
Project Manager 7 PRO
Full featured P2ware desktop project management software. Has all features of Project Manager 7 plus plan template customization (adding new fields, formulas, changing forms).
Designed for
advanced projects managers
consultants
managers who want customization
Project Manager 7 Personal
Has all the features of Project Manager 7 and can be used only for non-commercial purposes.
Frequently used in house building, event organizing and similar non-commercial projects.
Designed for
PRINCE2®/PMI PMBOK® students
Project management students
Managers who apply their expertise to all aspects of life