P2ware Project Manager 8 Pro is a project management software for professional managers demanding tool that embraces all aspects of real world project management: planning, managing time constraints, scope, costs, quality, risks and issues, work packages and progress reporting. It is also used by universities in teaching project management.
Its advantages include clear and functional diagrams, schedules, registers and logs with entries integrated with other plan items, table summaries, a Gantt chart, full support of product-based planning, predefined reports and many other.
The software is based on the PRINCE2® and PMI PMBOK®, but can be easily adapted to a custom methodology or the specifics of any industry.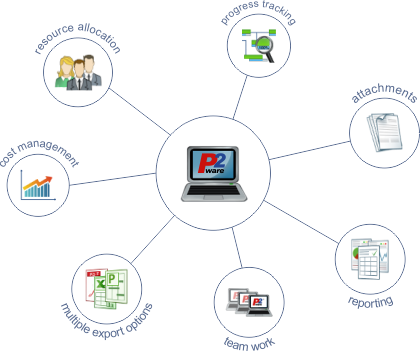 Main features
Complete support for project planning and execution
Extensive customization possibilities for the interface and processed data
Visualization of relevant information in the form of charts, diagrams and reports

Gantt Chart, Network Diagram
Product Breakdown Structure, Product Flow Diagram
Resource Workloads
Resource and activity costs and additional costs
Cash flows and earned value

Registers and logs with the ability to link records to other aspects of the plan

Risk Register, Issue Register, Quality Register
Daily Log, Lessons Log

Full support for product-based planning
Gantt Chart automatically generated from the Product Flow Diagram
Signaling threats to the timely implementation of the project
Report wizard
Free Project Manager 8 Viewer for teams, stakeholders and other users
Key benefits
Faster and easier project planning and execution management
All key project aspects under control
Easy scope, resources, costs and risk management
Negative and positive experiences accumulated on a regular basis
Product planning and quality management, often overlooked in other tools
Increased project manager and project team members' productivity
Less risk of projects failure