P2WARE PROJECT MANAGER 7
Comprehensive and complete project management tool leveraging state of the art methods and techniques for successful project planning, execution and reporting. Excellent project software for modern project managers.
P2ware Project Manager 7 is available in English, French, Spanish and Polish languages.
P2WARE PORTFOLIO SERVER 7
Extend proven Project Manager 7 software to the new level of programme and portfolio management. This leading edge portfolio management software integrates project management information with vital systems of your organization. Implement strategies, manage projects delivering actual benefits and new capabilities.
P2WARE PROJECT TEAM SERVER 7
Effective project management server and a centralized repository for all project documentation. Use modern web based user interface to manage multiple projects and teams, access and update important project information on any device wherever you want.
CONSULTING SERVICES
Every company is different. Leverage our consultants' experience coming from multiple implementations and build project management solution perfectly tailored to the specific needs of your industry.
Full support for all project management areas, including resources, time, quality, scope, cost and risk management
Effective progress tracking and project execution tailored to organizations
Reporting and documentation
Applications for individual project managers and team managers
Server systems for enterprises
Support for various methodologies and standards (e.g. PRINCE2®, PMI PMBOK®) and techniques (e.g. product-based planning)
Projects, programmes and portfolios management
Data import and export - standalone software that does not require any other applications, but can integrate with many
Cost and pace of deployment easily adjustable to the organization maturity level
Why P2ware Suite 7
P2ware Suite is a set of modern project planning tools and portfolio, programme and project management software. By managing projects with P2ware Suite you can join thousands of productive managers who:
Create excellent plans easily and effectively
More effectively control their projects
Improve quality of portfolio, project and team management
Build a Project Support Office (Project Management Office)
The P2ware Suite can be user-modified to align with any project management method or standard and with organization own rules and in-house templates. The software makes it possible to use effectively both your own experience and project management best practices.
Learn more
Videos
Learn P2ware Project Manager in several minutes and see that project management and planning does not have to be difficult.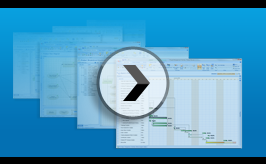 See more videos
News
Coming soon: P2ware Suite 8
12/20/2019
A new and improved version of our project, programme and portfolio management software will soon be available. The version 8 includes a better user interface, many improvements to make work faster, improved diagrams and many more. Buyers who will purchase licenses for version 7 will receive a free upgrade.
Coming soon: P2ware Cloud
10/5/2019
We will soon release the cloud-based version of the P2ware system. It's a fully scalable solution, optimized to work in different environments, from individual users to business applications (on-premises and private cloud) and large multi-tenant systems. The application allows use by users of different operating systems and mobile devices.
Project management system for the City Offices
6/12/2018
Work is currently underway to implement the P2ware system for managing projects carried out by one of Poland's City Offices. The system supports the connections between these projects and the development strategies of the province and the city, strategic objectives and operational programs, as well as the specific forms of their implementations.
Trusted by
ZTM Warszawa (Public Transport Authority in Warsaw), for methodical management of ideas, initiatives and projects in one of the biggest organization of public transport in Central Europe
MPWiK Wrocław, for interdisciplinary projects involving internal and external resources (800 employes), with their lifecycle overseen by a custom workflow
The Project and Technical Management department of the European Patent Office, for both green field and improvement projects, using product-based planning among other methods
Brazil's Army's Technology Center (CTEx), for an R&D project related to the armoured personnel carrier VBTP-MR Guarani
Bank Polskiej Spółdzielczości S.A., for portfolio management in a financial institution, multi-criteria evaluation of investments, and integration with the bank's systems
The State Fund for Rehabilitation of Disabled Persons (PFRON), for implementation of methodical project management compliant with PRINCE2®, using the P2ware Suite
Multiconsult, for project portfolio management, from business initiatives and tender procedures to acceptance, in the industries of technical and environmental consulting, as well as rail and road transportation.
Stowarzyszenie WIOSNA (SPRING Association), for their project the Noble Box
The Minstry of Economic Development for their IT projects
The Institute of National Remembrance