P2WARE PROJECT MANAGER 7
Comprehensive and complete project management tool leveraging state of the art methods and techniques for successful project planning, execution and reporting. Excellent project software for modern project managers.
P2ware Project Manager 7 is available in English, French, Spanish and Polish languages.
P2WARE PORTFOLIO SERVER 7
Extend proven Project Manager 7 software to the new level of programme and portfolio management. This leading edge portfolio management software integrates project management information with vital systems of your organization. Implement strategies, manage projects delivering actual benefits and new capabilities.
PRINCE2® Add-on for P2ware Project Manager
The tool containing everything you need to learn, tailor and embed PRINCE2® to increase productivity and efficiency of your organization through better project management.
P2WARE PROJECT TEAM SERVER 7
Effective project management server and a centralized repository for all project documentation. Use modern web based user interface to manage multiple projects and teams, access and update important project information on any device wherever you want.
CONSULTING SERVICES
Every company is different. Leverage our consultants' experience coming from multiple implementations and build project management solution perfectly tailored to the specific needs of your industry.
Full support for all project management areas, including resources, time, quality, scope, cost and risk management
Effective progress tracking and project execution tailored to organizations
Reporting and documentation
Applications for individual project managers and team managers
Server systems for enterprises
Support for various methodologies and standards (e.g. PRINCE2®, PMI PMBOK®) and techniques (e.g. product-based planning)
Projects, programmes and portfolios management
Data import and export - standalone software that does not require any other applications, but can integrate with many
Cost and pace of deployment easily adjustable to the organization maturity level
Why P2ware Suite 7
P2ware Suite is a set of modern project planning tools and portfolio, programme and project management software. By managing projects with P2ware Suite you can join thousands of productive managers who:
Create excellent plans easily and effectively
More effectively control their projects
Improve quality of portfolio, project and team management
Build a Project Support Office (Project Management Office)
The P2ware Suite can be user-modified to align with any project management method or standard and with organization own rules and in-house templates. The software makes it possible to use effectively both your own experience and project management best practices.
Learn more
Videos
Learn P2ware Project Manager in several minutes and see that project management and planning does not have to be difficult.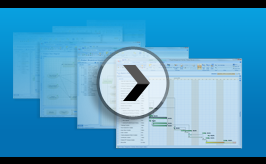 See more videos
News
P2ware Ltd. is the Gold Sponsor of the Portfolio Experience Conference 2014 Warsaw, Poland
3/3/2014
P2ware Ltd. is the Gold Sponsor of the Portfolio Experience Conference 2014 Warsaw, Poland, 9 April 2014, dealing with the subject of Project Portfolio Management and PMO, gathering practitioners and experts from all around the world. More information on conference website.
New software: P2ware Project Manager 7
11/6/2013
We are proud to inform that today we published P2ware Project Manager 7. It succeeds P2ware Planner 2011 and introduces a lot of new functionalities, e.g. new diagram coloring, conditional formatting and summaries, new network diagram, improved Gantt, new reports, plugins, documents view, custom objects and diagrams and many more functinalities. We introduced new licences, e.g. PM 7 Personal. For more please visit Products page
XVI IPMA Conference
9/1/2013
XVI IPMA Conference will be held in Warsaw on 24th and 25th of October 2013. Please visit P2ware Planner workshop during conference tools block.
more
Blog